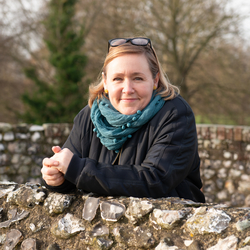 Claire Skaptason
Personal Development Trainer & ICF Accredited Coach
Hi. O&O stands for 'One & Only' - something my husband and his Auntie call each other, not Chesney Hawke's famous song released at the beginning of the 90s! So I like to think of myself as the 'One & Only' Trainer and Coach. My name is Claire Skaptason and I LOVE what I do. I started delivering professional training courses in 2004 and became a coach in 2017. Only now, doing both training and coaching together, do I finally feel completely satisfied professionally. Let me tell you more. This is a long section as I feel it is important for you to know about me if you are ever going to want to work with me. So grab a cuppa and get comfy.
My first job out of University was at a financial software company in the South of France. I loved it, learnt a lot and met some great people. After several years I returned to London and started working with a friend (Tom) who was starting a PR & Marketing agency in the Financial Services sector. I joined him and helped him grow the business.We worked hard, we travelled on a budget and we started to build a very strong brand and client base including top financial institutions. I loved these days and look back at them with great fondness and watch in wonder at how far Tom (the CEO, who I have much admiration for) continues to grow the business.
In 2004 I was due to move to New York to open our first US office but as the day approached I knew this was not the right direction for me. It was on this day that I took the decision to leave Cognito and move to the south coast of England with my other half. I continued to work as a consultant for Cognito and managed some great projects and I watched as the perfect person, Dan Simon, was given the opportunity to run the New York office – Dan is an incredibly bullsey guy who, to this day, continues to live in NYC running his own, very successful PR and Marketing Agency. I learnt a lot of good things from Dan and use examples of his style in training courses I deliver today.
So in 2004 as well as working as a consultant at the PR & Marketing agency I also delivered these services to other smaller companies and it was at this time that I decided to try my hand at training, an area I knew I was passionate about. I always felt fairly confident when standing in front of a group of people and I had delivered many training courses in my other roles so I set about creating a 'Presentation Skills' training course and was given a break as the fabulous Lucy Funnell, then Learning & Development Manager at The Body Shop gave me a shot. The feedback was very positive and I was asked to deliver more training. It was not long before other companies were employing my services - as people moved from business to business they recommended me which gave me a great feeling and still to this day I have never advertised myself as a trainer because the power of Word of Mouth has stood me in such good stead.
Forward wind several years, a marriage, two children and lots of mum guilt (continuing to work while trying to be a half decent mum) and we arrive in about 2010. I am still training, still doing consultancy work for small businesses and becoming more active in the PTA at my children's school, but there is still an itch that needs scratching and that turned into Polka Dot House – a retail business which saw me sourcing and selling new, vintage and handmade goodies. I loved it and did it for many years but it soon took its toll on family life (a need to visit many car boot sales) so I brought it to an end but it was through Polka Dot House that my next itch got scratched. One day I wrote to one of the companies from whom I sourced products – I asked them if they ever needed help with their customer services. To my surprise the owner wrote back and asked if I spoke French – 'Mais oui' was my response and within a month I was spending a week in Paris at a Retail Tradeshow helping customers and being paid pretty well for the privilege. It was through this experience that I became a UK Sales Agent for this company and several other European companies wanting to sell their wares in the UK. There were no real start up costs and it continuously confused me why more people were not working in this way. I chose to work more with Dutch companies whose products I loved – I knew that I needed to be passionate about what I was selling if I was going to sell more (it was a commission-based business). I created a website, created an electronic newsletter and invested a lot of time in understanding who my UK customers were – I spent a lot of time (once the children went to bed)  online, trawling through social media to see who was out there. I loved this new business and did it for several years (while continuing to train businesses) but realised that in order to take it to the next level I would need to spend much more time on the road, travelling the country and with my children still at primary school, it was time to bring the business to an end. Now you may think that I have tried a lot and given up a lot but everything I have done has taken me to where I am today.
What I have always known about myself is that I love people. Each time I deliver a training course I get such a buzz from it which stays with me for days afterwards. In September 2016 I started working a couple of days at a sixth form centre close to where I live - I did this while still delivering training, continuing to be the PTA Chair and a Parent Governor at my daughter's school!! Well I never thought I would enjoy working at the sixth form as much as I do. I love the 16-18 age group although I believe they have so many more challenges facing them today compared to when I was that age, however with the right kind of support and coaching they really can be the best versions of themselves. At the same time as starting at the sixth form, I was increasingly being asked about coaching and it felt like it was the right time to get my coaching qualification. I knew I had the skills but I needed professional training to ensure I was doing it right. So off I went in search of the company I would use to get my qualification and here I sit today as a certified coach with lots of clients under my belt and a hunger to be the best coach I can be, whether that be in business, for students or for individuals wanting a change in their life or career.
So that's me. I have a lot of experience in a lot of different areas which I believe makes me the best Trainer and Coach that I can be today. I continue to learn on a daily basis as I know that if I am not the best version of myself how can I help others to reach those dizzy heights. But it is my love of people that enables me to enjoy everything I do.